I have been asked a few times what photographic equipment I use. So here we go.
This is my workhorse. The body is a Sony ILCE-7RM3. Obviously it's a modern camera, so full of features that I feel like I am only scratching the surface. I like the high sensitivity and resolution of the 42 megapixels sensor. I like the wide range of possibilities, but I find that I sometimes can't recall how to set up for a specific shot, specially if I figured it out a couple of months ago. It is a demanding camera. Click here to see the detailed specs: ILCE-7RM3 The lens is actually 2 lenses: a Sony SEL100400GM, which is a 100-400 mm zoom, coupled with a 2X teleconverter SEL20TC. This means that I really work with a 200-800 mm zoom, which allows me to get real close to the animals. This is extremely effective with shy or dangerous animals but, of course, there is a drawback: you need a lot of light. The maximum aperture of the zoom is 4.5, and the double divides that by 2, which means I can only set it to 9. And this is true only at 200 mm. Extending the zoom to 800 mm lowers the maximum aperture to 11. Obviously this means that I can only use that combination in bright days. When the sun goes down, I have to remove the teleconverter. Another detail that you might find surprising, I hold that camera in my hands most of the time. I do not hang it around my neck for many reasons. First I want the immediate availability. I am an image hunter, and, as such, I need my main weapon ready at all times. Then it weight 5 lbs, so it is pretty heavy. Furthermore, I do not like things hanging on my neck. The only reason I will put it down is because I want to take close-up pics. And this bring us to the second camera, which, as you can see in the pic here, I carry attached to a body harness.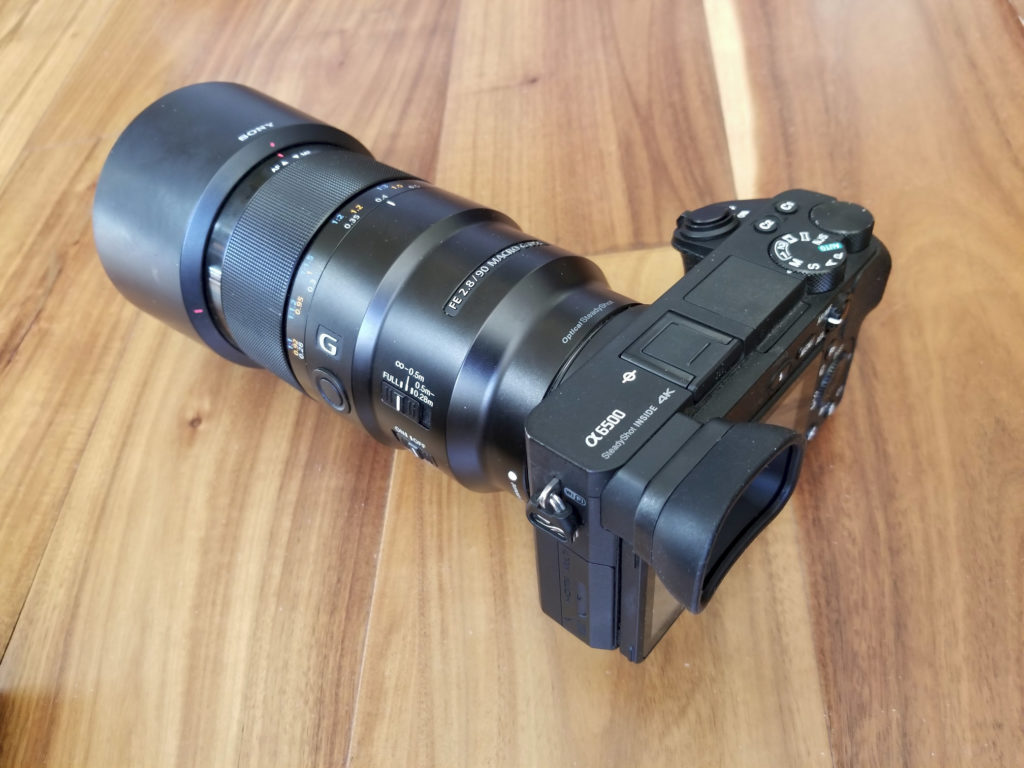 The camera body is a Sony ILCE-6500. Click here to see the detailed specs: ILCE-6500 specs I originally bought this as my first camera when I was still a Sony employee, and Sony had a tent sale. Later on, as I was complaining that I had to change lens whenever I wanted to take closeups, my step-daughter told me: why don't you use your smaller camera with the macro lens? Brilliant I thought! And that's what I have been doing ever since that day. The lens is a Sony FE 90 mm F2.8 MACRO If you have already been looking at my pictures, you know how good this lens is. Yes, it is an expensive lens, but I feel it is worth every penny, considering the quality of the closeup I get with it. This is the lens I use for most insects and other small creatures pictures. However, some insects won't let me get close. In that case I will use the workhorse to take a picture from a distance. Then I will have to enlarge the insect using a photo editor. And I can also use this lens if an average size animal is too close for my long focal gear. I also bring with me a couple of other lenses. For landscape pictures, I will switch to this Sony SEL24105G: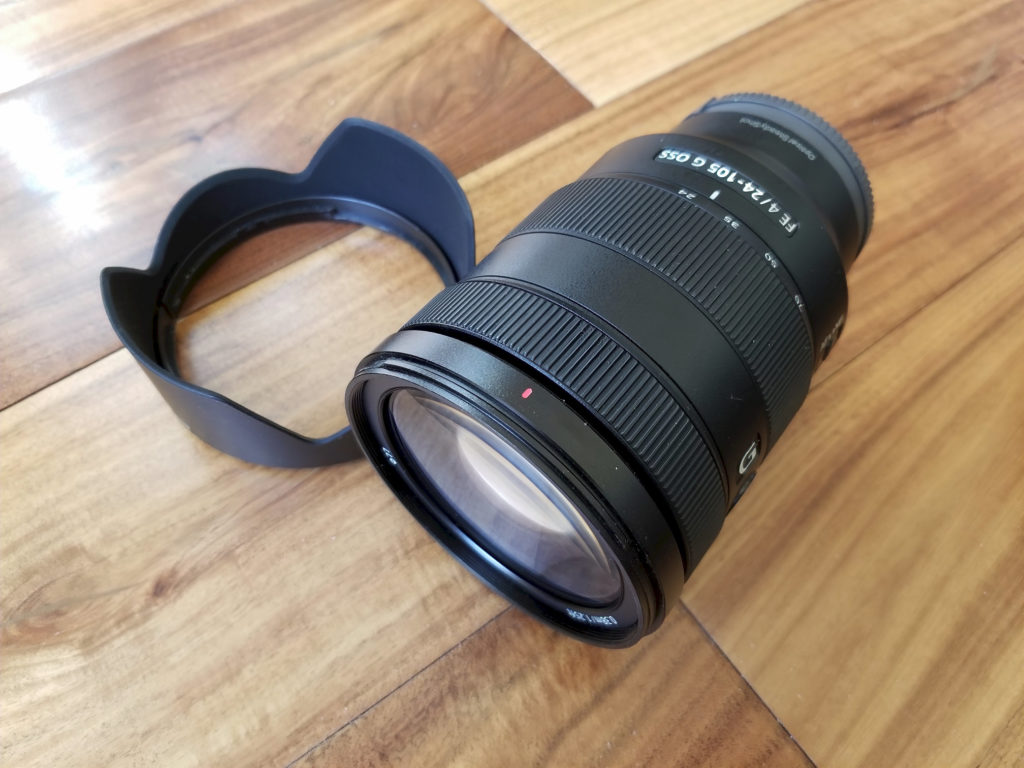 This is my general usage lens. Like all my other Sony lenses, it has excellent optics for an average range zoom, going from 24 to 105 mm with a 4.0 aperture. And for night photography with only a flashlight, I use a SEL135F18GM lens: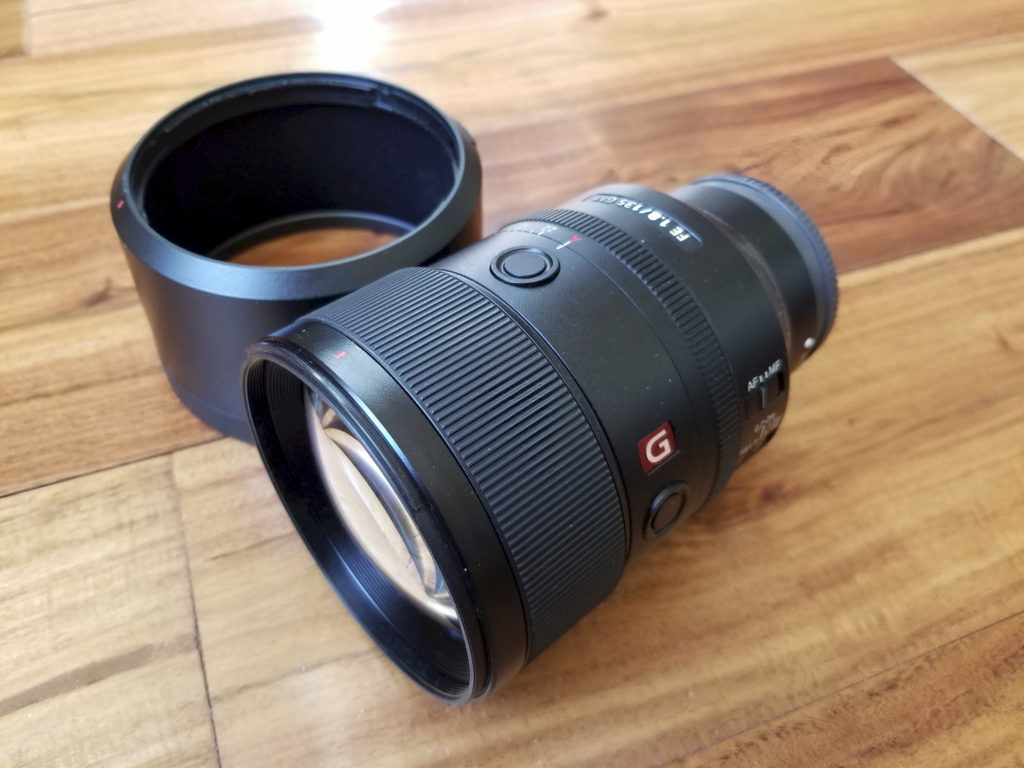 It has a maximum aperture of 1.8 which allows more light than any other lens I have for 135 mm focal length. However it will always produce grainy pictures because the light is so weak and you have to use very high sensitivity. You also get a short depth of field. Night time photography is by far the hardest. This led me to explore the possibility of using a flash. This is a work in project as I am testing a new setup. I will tell you more on this later if successful. That's all for now. Please don't hesitate to ask questions or let me know what you think. I will be more than happy to answer, if I can.